We provide broad consulting services.
CSR Consulting
1.CSR strategy/Code of Conducts
The stock price of a company, which does business with factories using children, has falled when NGOs revealed the fact. There are some companies and organizations which decide it business rule to protecting human rights in their supply chain. Now not doing someting for sustainable procurement can decrease the corporate value. For the leading companies, CSR strategy is essential. We provide solution to utilize CSR into the business.
2.Social/Labour/CSR Audit
We audit several factories which do business with our clients. Our audit is based on SA8000 standard. Usually audit is composed of confirmation of labour regulations and work shift table, check of the inside of factory, employees interview, and so on. It takes all day long.
Even in Japan, there are labour violations. For example, Technical Intern Training Program. We visit factories with our client, and from neuteral point, support communication betwrrn factory and client. Not only tell the result of audit, we advise factory and client what is the key point to change the situation, and provide solutions.
If clients know how to audit their factories, they cannot see through the violations of the factories, and cut the management of their factories. We give lecture about SA8000 audit and related laws to our clients, and give on the job training to become an auditor.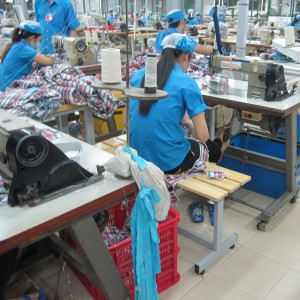 3.Capacity Building
We provide capacity building for company's drastic growth. The fiel is: Supply chain, labonur issues, CSR, and so on.
Example 1 "System for accepting foreign interns(TITP)"
The number of foreign workers is increasing. Technical Intern Trainig Program (TITP, Japanese National strategical program to compensate labour power) promote Japanese companies hire foreign workers. But employers have to so many things like understanding several related law and the cultural difference, explanation of Japanese tradition to workers, support for workers daily living. Thousands of TITP workers become missing every year.Making good relationship between workers and employers is required to survive this world.
We explain how to talk with TITP workers, several laws, what they should care to person in charge in factory and company. After accepting TITP workers, we sometimes update the information of law, and give consultation to accepting companies, and support the accepting environment.
Example 2 "Lecture on seminar"
We have seminars inside the clients for expanding the CSR value. The contents are up to clients, like explanation of labour law, clients' specific risk, current CSR trend. Also in academic seminar we have presentation from the view point of the field.
Twice a year we operate supply chain CSR seminar in Southeast Asia. The current report is here. It is also good opportunity for participants to share their experiences there.
Business Consulting
More and More Japanese  companies are expanding to Southeast Asia.However, not few companies give up the expanding, facing some difficulties. One of the reasons is, lack of research of politics, law system, technology trend, and culture. Through the audits in Southeast Asian countries, we are familiar with these local information. Moreover, with some countries, we have connection with Ministry of labour. Based on these experience, we support Japanese companies which want to expand their business to Southeast Asian countries.
Human Resource Consulting
(Coming Soon)
Real Estate Consulting
(Coming Soon)
Contact
Tel   +81 (0)44-982-1729
Mail  info[at]energeticgreen.com